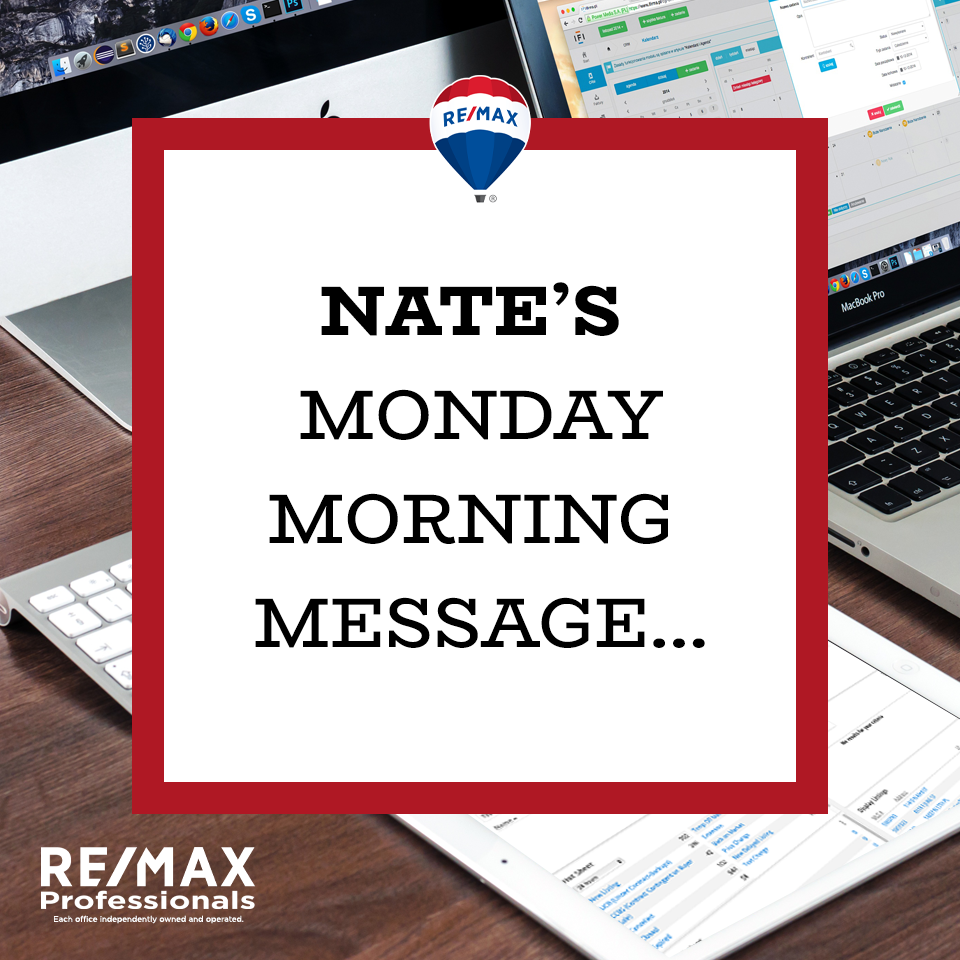 Nate's Monday Morning Message
Volume 998
Welcome to this week's Monday Morning Message…this week, let's spend some time thinking about what it means to be truly happy. What is it that gets you excited? What is it that makes you want to do more of it? What is it that makes you happy? These are the things that you need to do more of! Being efficient, productive, and organized is only worthwhile if you fill the remaining time with things that make you feel excited and happy. This doesn't mean you need to completely turn your life upside down; just start by adding a little more happiness here and there. You can do it! Let's make it a great week!
ENCOURAGEMENT CORNER
Believing in You, By Catherine Pulsifer
Never stop believing in yourself.
When others doubt, don't you.
Do what you love to do,
No one knows better than you.
Life is too short to live others' dreams.
Follow your own dream.
Push yourself to reach your goals,
And live the life you once dreamed.
Trust your instincts.
Be true to yourself.
You know what is right for you.
Never give up or give in.
Forget the words "I don't know how."
You can learn, you can research, you can do.
Your mind is powerful.
When you believe you can.
You will find a way,
You won't waste a day.
Persist and persevere. Do not fear,
Because if you believe in you.
You will find dreams can come true.
May all your dreams turn into goals, believe in yourself.
And remember, all of life is a choice.
The decision is up to you.
Believe in yourself,
Dare to be whatever you want to be!
WORDS OF INSPIRATION
"True happiness… is not attained through self-gratification, but through fidelity to a worthy purpose." – Helen Keller
"Some cause happiness wherever they go; others whenever they go." – Oscar Wilde
"It is not in the pursuit of happiness that we find fulfillment, it is in the happiness of pursuit." - Denis Waitley
Nate Martinez, RE/MAX Professionals
www.joinremaxprofessionalsaz.com
623-362-3000
consult@rmxprofessionals.com
PS Last Chance to Sign Up for our first Business Planning Workshop in the new decade! You will learn how to:
Shift your mindset
Gain clarity on your vision
Lead gen like a badass
Step-by-Step plan to build and grow your business
Margarita happy hour included! Seats are filling up fast. Click here to find out more details and mark your calendar for March 11th at 3:30pm.
Copyright © 2020 Nate Martinez. All rights reserved.