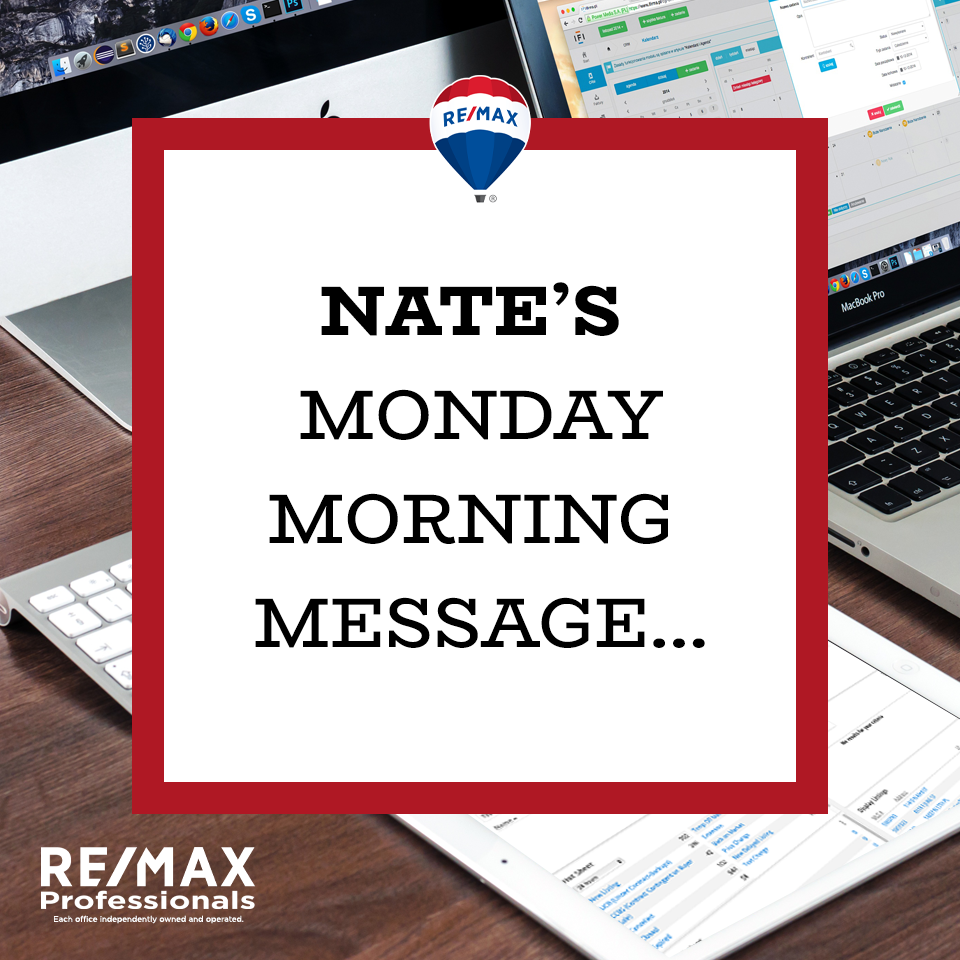 Nate's Monday Morning Message
Volume 995
Welcome to this week's Monday Morning Message…as we continue to evolve in our personal and professional development, let's keep in mind that the world is full of mirrors. We will see in ourselves what we put out to the world and we will get back what we give to others. As you wake each morning, I hope you look forward to all the great opportunity you have each day. As you wake each morning, I hope you look forward to all the people you will have the chance to meet or help that day. As you wake each morning, I hope you look forward to all the love, happiness, and joy you could have if you just gave it. This week spend a few more minutes on what you have total control over - your attitude towards others. Let's make it a great week!
ENCOURAGEMENT CORNER
House Of 1000 Mirrors, Author Unknown
Long ago in a small, far away village, there was place known as the House of 1000 Mirrors. A small, happy little dog learned of this place and decided to visit. When he arrived, he bounced happily up the stairs to the doorway of the house. He looked through the doorway with his ears lifted high and his tail wagging as fast as it could. To his great surprise, he found himself staring at 1000 other happy little dogs with their tails wagging just as fast as his. He smiled a great smile, and was answered with 1000 great smiles just as warm and friendly. As he left the House, he thought to himself, "This is a wonderful place. I will come back and visit it often."
In this same village, another little dog, who was not quite as happy as the first one, decided to visit the house. He slowly climbed the stairs and hung his head low as he looked into the door. When he saw the 1000 unfriendly looking dogs staring back at him, he growled at them and was horrified to see 1000 little dogs growling back at him. As he left, he thought to himself, "That is a horrible place, and I will never go back there again."
All the faces in the world are mirrors. What kind of reflections do you see in the faces of the people you meet?
WORDS OF INSPIRATION
"The greater danger for most of us lies not in setting our aim too high and falling short; but in setting our aim too low, and achieving our mark." – Michelangelo
"It's not what you look at that matters, it's what you see." – Henry David Thoreau
"I will not follow where the path may lead, but I will go where there is no path, and I will leave a trail." – Muriel Strode
Nate Martinez, RE/MAX Professionals
www.joinremaxprofessionalsaz.com
623-362-3000
consult@rmxprofessionals.com
PS you are invited to our first business planning workshop in the new decade! This is the best time of year to start preparing for the upcoming selling season and we would love to have you there. **Click here** to find out more details and mark your calendar for March 11th at 3:30pm.
Copyright © 2020 Nate Martinez. All rights reserved.