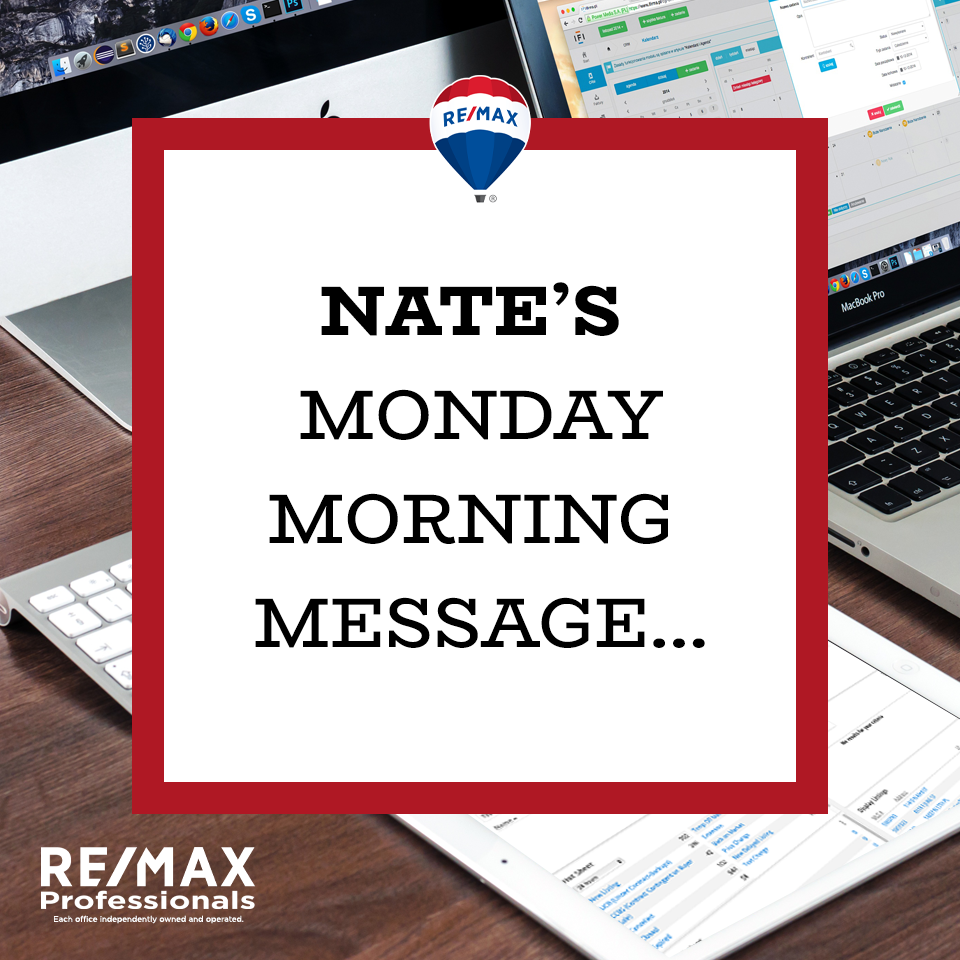 Nate's Monday Morning Message
Volume 996
Welcome to this week's Monday Morning Message…this week I'd like to remind you the value of a team. There is not one person on this earth who can do everything themselves. When we associate ourselves with people that have the same mindset, goals, dreams, and determination we all become collectively stronger.
Look around you this week and decide if you are doing everything you can to make the people around you better. Are they doing the same for you? Life is more than a two-way street. There are twists and turns, bumps and potholes, red lights and even stop signs. Are you surrounded by people that will help you every step of the way? Are you prepared to do your part in return? Let's embrace the help of others, while giving more than we get! Let's make it a great week!
ENCOURAGEMENT CORNER
TEAMWORK written by Katrina Losta
Concentrate 10% on lack of communication…And 90% in being PART OF ESTABLISHING IT.
Concentrate 10% on un-professionalism…And 90% on LEADING BY EXAMPLE.
Concentrate 10% on someone else's weakness…And 90% on IMPROVING YOUR OWN.
Concentrate 10% on accusations…And 90% on GETTING THE FACTS.
Concentrate 10% on lack of training…And 90% on HOW TO OBTAIN IT.
Concentrate 10% on complaining…And 90% on COMPLIMENTING.
Concentrate 10% on flaws in the system…And 90% on BEING PART OF IMPROVING THEM.
Concentrate 10% on constructive criticism…And 90% on LEARNING FROM IT.
Concentrate 10% on others…And 90% on YOURSELF.
Concentrate 10% on fear of making a mistake…And 90% on ACHIEVING SUCCESS.
Concentrate 10% on watching the clock…And 90% on PRODUCTIVITY!
Concentrate 10% on conflict…And 90% on RESOLUTION.
Concentrate 10% on what you want to be…And 90% on HOW TO GET THERE!
Concentrate 10% on obstacles…And 90% on PERSEVERANCE AND VICTORY!
WORDS OF INSPIRATION
"None of us is as smart as all of us." - Ken Blanchard
"Coming together is a beginning. Keeping together is progress. Working together is success." - Henry Ford
"Many hands make light work." - John Heywood
Nate Martinez, RE/MAX Professionals
www.joinremaxprofessionalsaz.com
623-362-3000
consult@rmxprofessionals.com
PS you are invited to our first business planning workshop in the new decade! This is the best time of year to start preparing for the upcoming selling season and we would love to have you there. **Click here** to find out more details and mark your calendar for March 11th at 3:30pm.
Copyright © 2020 Nate Martinez. All rights reserved.