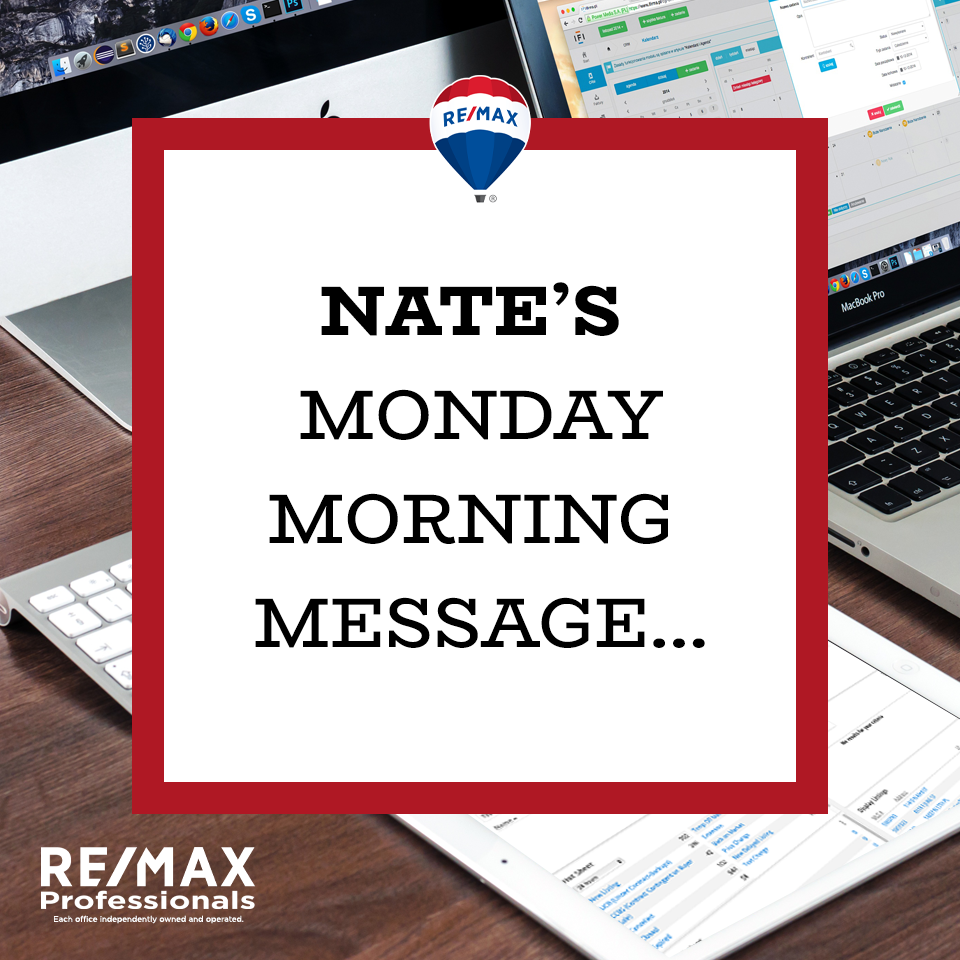 Nate's Monday Morning Message
Volume 997
Welcome to this week's Monday Morning Message…last week I was in Las Vegas attending the annual RE/MAX convention and I can't tell you how proud I am to be surrounded by such amazing people that work for our company. I was inspired and motivated by each and every one of them over the four days we spent together at R4. Which brings me to this week's topic.
What do you think is more important…succeeding or getting started? The massively successful people in the world don't worry about succeeding nearly as much as they do about getting started. In reality, you can't have one before the other! The key to succeeding at anything in life is taking the first step, even if you don't know all the answers. This week I'd like to challenge you to let go of the fear of failure and take action towards the life you dream of. Let's make it a great week!
ENCOURAGEMENT CORNER
When the Sun Comes Up!
In Africa every morning a gazelle wakes up knowing that it must outrun the fastest lion if it wants to stay alive.
Every morning a lion wakes up knowing that it must run father than the slowest gazelle or it will starve to death.
It makes no difference whether you are a lion or a gazelle – when the sun comes up, you had better be running.
I'd just prefer to be a lion!
WORDS OF INSPIRATION
"Take the first step in faith. You don't have to see the whole staircase, just take the first step." – Dr. Martin Luther King Jr.
"Ability is what you're capable of doing. Motivation determines what you do. Attitude determines how well you do it." – Lou Holtz
"A real decision is measured by the fact that you've taken a new action. If there's no action, you haven't truly decided." – Tony Robbins
Nate Martinez, RE/MAX Professionals
www.joinremaxprofessionalsaz.com
623-362-3000
consult@rmxprofessionals.com
PS you are invited to our first business planning workshop in the new decade! You will learn how to:
Shift your mindset
Gain clarity on your vision
Lead gen like a badass
Step-by-Step plan to build and grow your business
Margarita happy hour included! Seats are filling up fast. Click here to find out more details and mark your calendar for March 11th at 3:30pm.
Copyright © 2020 Nate Martinez. All rights reserved.