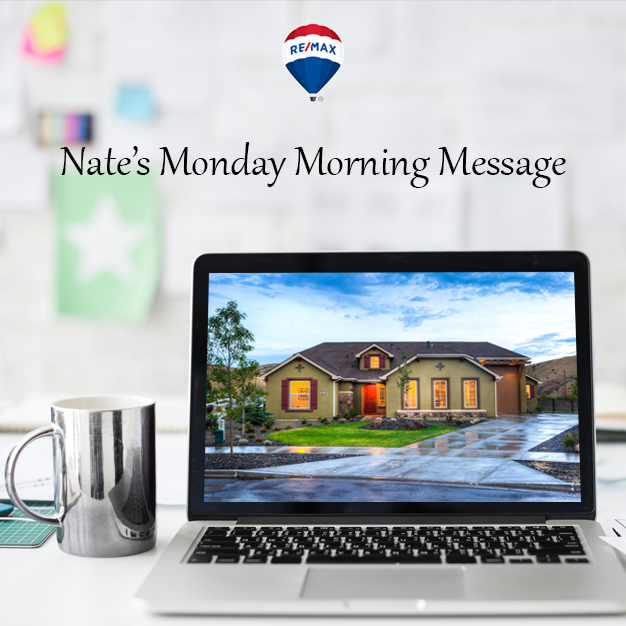 Nate's Monday Morning Message
Volume 972
Welcome to Nate's Monday Morning Message! I hope that this email is finding each of you enjoying your hard-earned day off! Labor Day is the sign that summer is coming to an end, school is back in session and hopefully the days of triple digits are coming to a close!
This day marks a moment in history where the hardworking men and women who forged the labor movement in the 1800s to ensure our rights in both socially and economically were represented. The rights we enjoy today were fought for many years ago and we have the American workers to thank.
From my family to yours, we want to wish you each a very happy, healthy and safe Labor Day celebration! Let's make it a great week!
ENCOURAGEMENT CORNER
CAN'T by Edgar Guest
Can't is the worst word that's written or spoken;Doing more harm here than slander and lies;On it is many a strong spirit broken,And with it many a good purpose dies.It springs from the lips of the thoughtless each morningAnd robs us of courage we need through the day:It rings in our ears like a timely-sent warningAnd laughs when we falter and fall by the way.Can't is the father of feeble endeavor,The parent of terror and half-hearted work;It weakens the efforts of artisans clever,And makes of the toiler an indolent shirk.It poisons the soul of the man with a vision,It stifles in infancy many a plan;It greets honest toiling with open derisionAnd mocks at the hopes and the dreams of a man.Can't is a word none should speak without blushing;To utter it should be a symbol of shame;Ambition and courage it daily is crushing;It blights a man's purpose and shortens his aim.Despise it with all of your hatred of error;Refuse it the lodgment it seeks in your brain;Arm against it as a creature of terror,And all that you dream of you some day shall gain.Can't is the word that is foe to ambition,An enemy ambushed to shatter your will;Its prey is forever the man with a missionAnd bows but to courage and patience and skill.Hate it, with hatred that's deep and undying,For once it is welcomed 'twill break any man;Whatever the goal you are seeking, keep tryingAnd answer this demon by saying: "I can."
Copyright © Edgar Guest. All rights reserved.
WORDS OF INSPIRATION
"Each year, Labor Day gives us an opportunity to recognize the invaluable contributions that working men and women make to our nation, our economy and our collective prosperity. It gives us a chance to show gratitude for workers' grit, dedication, ingenuity and strength, which define our nation's character." - Tom Perez
"No work is insignificant. All labor that uplifts humanity has dignity and importance and should be undertaken with painstaking excellence." – Martin Luther King, Jr.
"As we celebrate Labor Day, we honor the men and women who fought tirelessly for workers' rights, which are so critical to our strong and successful labor force." – Elizabeth Esty
Nate Martinez, RE/MAX Professionals
www.joinremaxprofessionalsaz.com
623-362-3000
consult@rmxprofessionals.com
Copyright © 2019 Nate Martinez. All rights reserved.