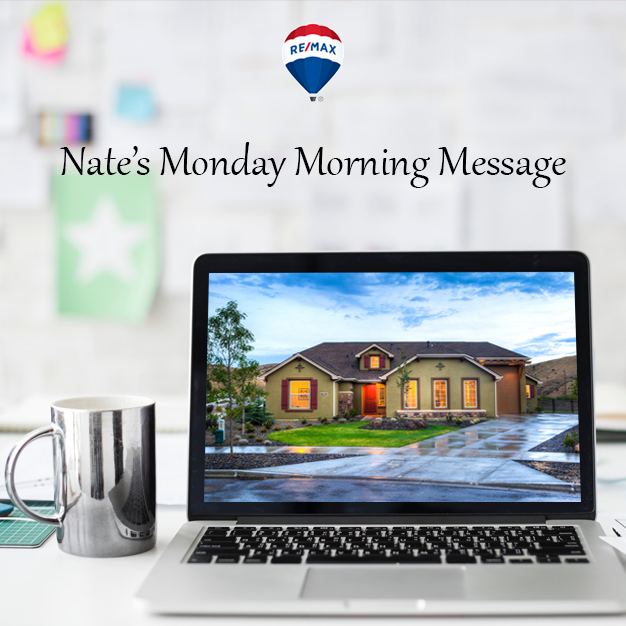 Nate's Monday Morning Message
Volume 978
Welcome to this week's edition of Nate's Monday Morning Message…as we head into he holiday season, I thought it would be a good time to focus on our relationships and ask the question: do you treat all people in your life that are special, the way they deserve to be treated?
All of us go through life and with the hustle and bustle of living we forget to make sure we don't take for granted those special people who are around us. It could be a spouse or significant other; it could be your children or your parents. It could be your best friend or a co-worker; it could be a total stranger.
This week, I'd like to challenge you to take five minutes to realize that we are never too busy to look into the eyes of the person or people we love for just a few extra seconds each day. Let's take five minutes to realize we are never too busy to spend just a few more minutes playing with our kids or listening to a story from our parents. Let's take five minutes to realize we are never too busy to help a dear friend with a problem. Let's not be too busy in life that we miss living it. Let's make it a great week!
ENCOURAGEMENT CORNER
Echo or Life - Unknown Author
"A son and his father were walking on the mountains. Suddenly, his son falls, hurts himself and screams, "AAAhhhhhhhhhhh!" To his surprise, he hears a voice repeating, somewhere in the mountain, "AAAhhhhhhhhhhh!" Curious, he yells, "Who are you?" He receives the answer, "Who are you?" Angered at the response, he screams, "Coward!" He receives the answer, "Coward!"
He looks to his father and asks, "What's going on?" The father smiles and says, "My son, pay attention." And then he screams to the mountain, "I admire you!" The voice answers, "I admire you!" Again the father screams, "You are a champion!" The voice answers, "You are a champion!"
The boy is surprised but does not understand. Then the father explains, "People call this echo, but really this is life. It gives you back everything you say or do. Our life is simply a reflection of our actions. If you want more love in the world, create more love in your heart. If you want more competence in your team, improve your competence. This relationship applies to everything, in all aspects of life; Life will give you back everything you have given to it."
"Your life is not a coincidence. It's a reflection of you!"
WORDS OF INSPIRATION
"The memories we make with our family is everything." - Candace Cameron Bure
"People are basically the same the world over. Everybody wants the same things - to be happy, to be healthy, to be at least reasonably prosperous, and to be secure. They want friends, peace of mind, good family relationships, and hope that tomorrow is going to be even better than today." - Zig Ziglar
"The bond that links your true family is not one of blood, but of respect and joy in each other's life." - Richard Bach
"Learn to enjoy every minute of your life. Be happy now. Don't wait for something outside of yourself to make you happy in the future. Think how really precious is the time you have to spend, whether it's at work or with your family. Every minute should be enjoyed and savored." - Earl Nightingale
Nate Martinez, RE/MAX Professionals
www.joinremaxprofessionalsaz.com
623-362-3000
consult@rmxprofessionals.com
Copyright © 2019 Nate Martinez. All rights reserved.