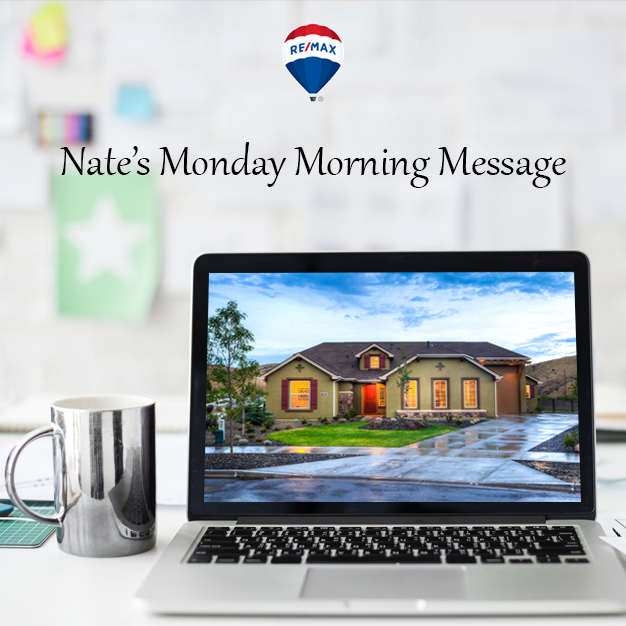 Nate's Monday Morning Message
Welcome to this week's edition of Nate's Monday Message! I hope you all had a fabulous weekend and that you found some time to relax and refresh before hitting the ground running for another amazing week. Remember the reasons why you work so hard: accomplishment, satisfaction, provide for your family, build wealth, charter new waters, fine tune your skills, competition, etc.
Please take five minutes this Monday morning to remember and really think about why you do what you do. The purpose behind your actions is what will get you through difficult times. The goals that you set are the markers of success and achievement. They will guide you on the journey. The actions you take daily are what move you forward little by little to achieve all that you desire. Keep your purpose in sight and work hard on the actions that will lead to your success. And remember, never, never, never quit! Let's make it a great week!
ENCOURAGEMENT CORNER
Climb 'Til Your Dream Comes TrueWrittenby Helen Steiner Rice
Often your tasks will be many,
And more than you think you can do.
Often the road will be rugged
And the hills insurmountable, too.
But always remember, the hills ahead
Are never as steep as they seem,
And with Faith in your heart start upward
And climb 'til you reach your dream.
For nothing in life that is worthy
Is ever too hard to achieve
If you have the courage to try it,
And you have the faith to believe.
For faith is a force that is greater
Than knowledge or power or skill,
And many defeats turn to triumph
If you trust in God's wisdom and will.
For faith is a mover of mountains,
There's nothing that God cannot do,
So, start out today with faith in your heart,
And climb 'til your dream comes true!
WORDS OF INSPIRATION
"For beautiful eyes, look for the good in others; for beautiful lips, speak only words of kindness; and for poise, walk with the knowledge that you are never alone." - Audrey Hepburn
"To enjoy good health, to bring true happiness to one's family, to bring peace to all, one must first discipline and control one's own mind. If a man can control his mind he can find the way to Enlightenment, and all wisdom and virtue will naturally come to him." - Buddha
"When it is obvious that the goals cannot be reached, don't adjust the goals, adjust the action steps." - Confucius
Nate Martinez, RE/MAX Professionals
www.joinremaxprofessionalsaz.com
623-362-3000
consult@rmxprofessionals.com