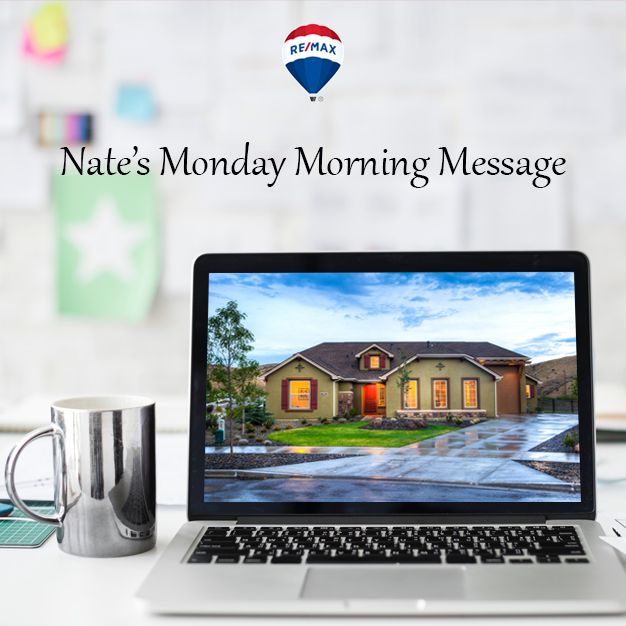 Nate's Monday Morning Message
Volume 985
Welcome to this week's edition of Nate's Monday Morning Message…the first weekend of holiday shopping is behind us, and we going to increasing pulled in many directions.
This is the time of year that gets to be very, very busy! We should be thrilled to have this opportunity in our lives however, I encourage each of you to make an effort to find a little extra time.
Spend that extra time shopping for just the right gift. Spend that extra time listening to a child talk about Santa Claus. Spend that extra time making a few phone calls to those people you may not have talked to enough throughout the year; you will never know the impact you may have on someone's life.
Let's focus on making those around us feel happier, more cared for, and more loved. When we can do that, we ourselves will feel more fulfilled. Let's make it a great week!
ENCOURAGEMENT CORNER
I wanted to share a word with you that I think is very fitting at this time of year - BELIEVE. I hope that all of you share this wonderful concept with all the people you care about. I hope you all never lose this magical idea - Believe.
I Believe we have not come this far to fail or give up now. I Believe we are meant to go through storms before we see the beautiful sun. I Believe the kingdom we live in is unshakable. I Believe family become friends and friends become family. I Believe all my hard work will pay off. I Believe 2020 will be the best year of my life so far. I Believe I have the power to change anything I do not like. I Believe collectively we are stronger than we are apart. I Believe love is the solution to all problems. I Believe time brings about opportunity and thought. I Believe I have been put on this earth and in this position for a purpose. I Believe I am capable of anything as long as I have the desire to do it. I Believe I am who I am because of all the people in my life.
What do you Believe?
WORDS OF INSPIRATION
"Your work is going to fill a large part of your life, and the only way to be truly satisfied is to do what you believe is great work. And the only way to do great work is to love what you do. If you haven't found it yet, keep looking. Don't settle. As with all matters of the heart, you'll know when you find it." - Steve Jobs
"Faith is to believe what you do not see; the reward of this faith is to see what you believe." – Saint Augustine
"Three things are necessary for the salvation of man: to know what he ought to believe; to know what he ought to desire; and to know what he ought to do." - Thomas Aquinas
Nate Martinez, RE/MAX Professionals
www.joinremaxprofessionalsaz.com
623-362-3000
consult@rmxprofessionals.com
Copyright © 2019 Nate Martinez. All rights reserved.