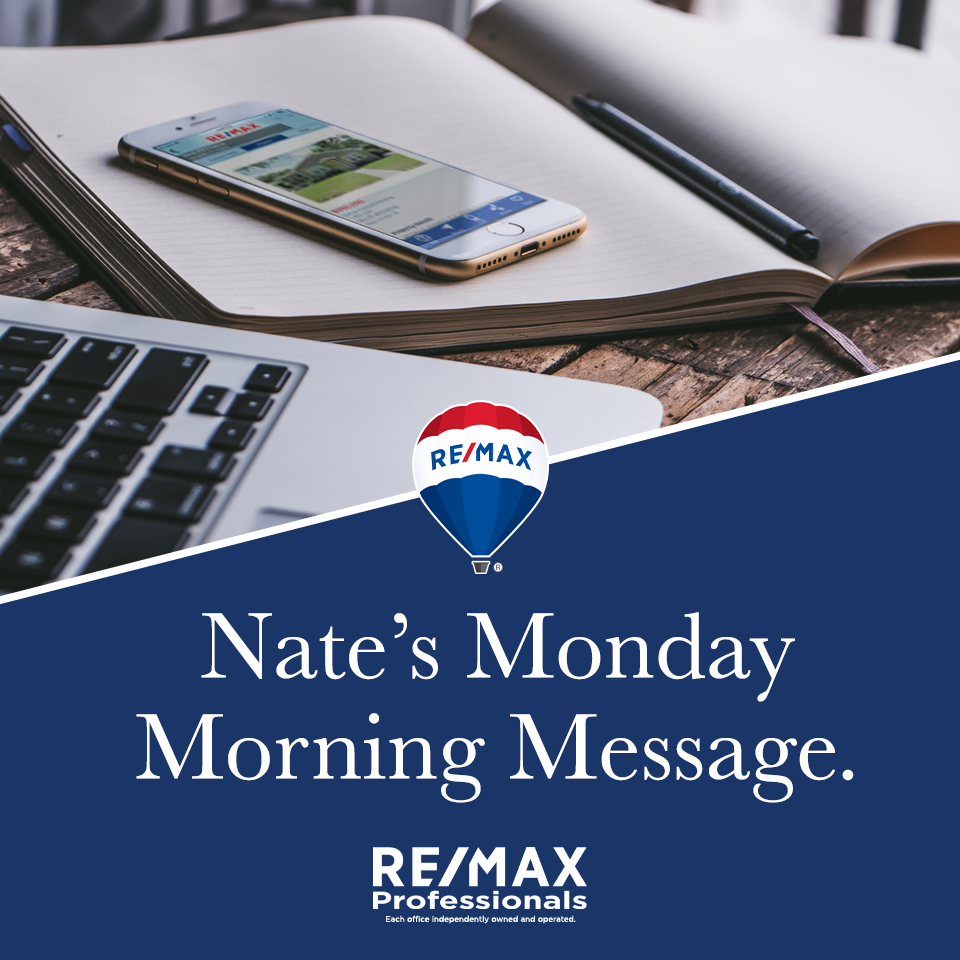 Nate's Monday Morning Message
Volume 1,057
Welcome to this week's edition of Nate's Morning Message…I want to thank everyone who stopped by the re-grand opening of our Avondale office location. We are super excited to upgrade our space in a new, modern suite with easy access to the west valley for our agents and clients. We are blessed to have three beautiful office locations – hard to believe RE/MAX Professionals will be celebrating 20 years this fall! Thank you to each of you reading this who continue to support our amazing company – this week's email is dedicated to you! Let's make it a great week!
ENCOURAGEMENT CORNER
Everyone around the world knows Starbucks. It is one of the most recognizable symbols next to Mcdonalds and Superman. But it didn't start that easy, without perseverance the coffee giant would never have existed.
Howard Schultz, the founder of Starbucks went to over 200 banks looking for his original loan. 242!
Not only was he desperately trying to secure a loan, his wife was pregnant with their first child. After a year of rejections, he was able to secure the $400,000 needed from a doctor and two other individual investors.
Today, the brand employs over 137,000 people around the world.
Starbucks Stats (via Business Insider):
16,850 Starbucks locations in 40 countries
As of 2010, Starbucks employed 137,000 people — twice the population of Greenland
Starbucks adds two new stores on a daily basis since 1987
And did I mention that Howard Schultz is worth nearly 3 billion dollars?
Perseverance Lesson: Never give up, no matter how hard it might seem. If Howard had not persevered the world wouldn't know one of the most iconic brands ever.
WORDS OF INSPIRATION
"Keep your face always toward the sunshine - and shadows will fall behind you." – Walt Whitman
"No matter what people tell you, words and ideas can change the world." - Robin Williams
"Out of difficulties grow miracles." – Jean de la Bruyere
Nate Martinez, RE/MAX Professionals
www.joinremaxprofessionalsaz.com
623-362-3000
consult@rmxprofessionals.com
Copyright © 2021 Nate Martinez. All rights reserved.