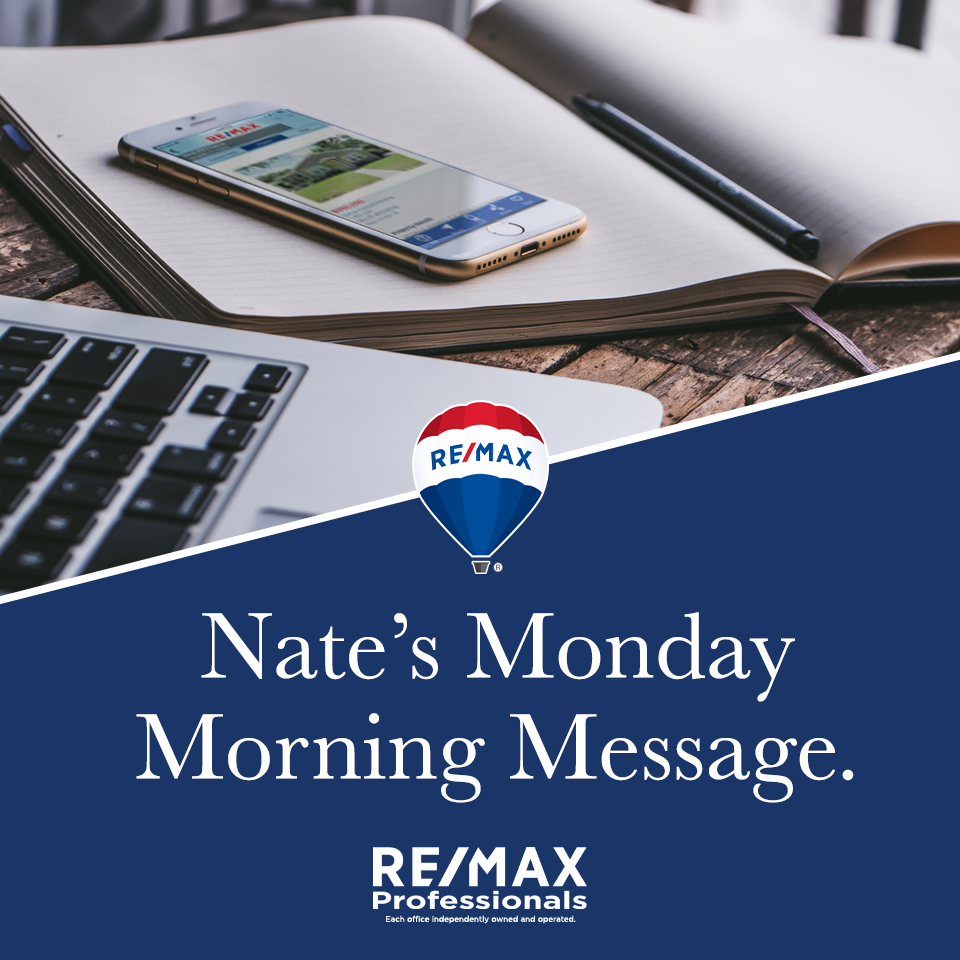 Nate's Monday Morning Message
Volume 1,091
Welcome to this week's edition of Nate's Morning Message…I hope this email finds you well and ready for the holiday that is going to be here in just a few days. It's been a whirlwind at my house however we are blessed to be surrounded by our beloved family, cherished friends and all the outstanding agents who call themselves RE/MAX Professionals. From my home and family, I want to wish each of you reading this a very warm, happy, healthy and safe celebration, however you chose to celebrate the season. Let's make it a great week!
ENCOURAGEMENT CORNER
"How the Grinch Stole Christmas" by Dr. Suess
…So he paused. And the Grinch put his hand to his ear.
And he did hear a sound rising over the snow.
It started in low. Then it started to grow.
But the sound wasn't sad! Why, this sound sounded merry!
It couldn't be so! But it WAS merry! VERY!
He stared down at Whoville! The Grinch popped his eyes!
Then he shook! What he saw was a shocking surprise!
Every Who down in Whoville, the tall and the small,
Was singing! Without any presents at all!
He HADN'T stopped Christmas from coming! IT CAME!
Somehow or other, it came just the same!
And the Grinch, with his grinch-feet ice-cold in the snow,
Stood puzzling and puzzling: "How could it be so?"
"It came without ribbons! It came without tags!"
"It came without packages, boxes or bags!"
And he puzzled three hours, till his puzzler was sore.
Then the Grinch thought of something he hadn't before!
"Maybe Christmas," he thought, "doesn't come from a store."
"Maybe Christmas…perhaps…means a little bit more!"
WORDS OF INSPIRATION
"Christmas waves a magic wand over this world, and behold, everything is softer and more beautiful." – Norman Vincent Peale
"Expectancy is the atmosphere for miracles." – Edwin Louis Cole
"He who has not Christmas in his heart will never find it under a tree." – Roy L. Smith
Nate Martinez, RE/MAX Professionals
www.joinremaxprofessionalsaz.com
623-362-3000
consult@rmxprofessionals.com
Copyright © 2021 Nate Martinez. All rights reserved.