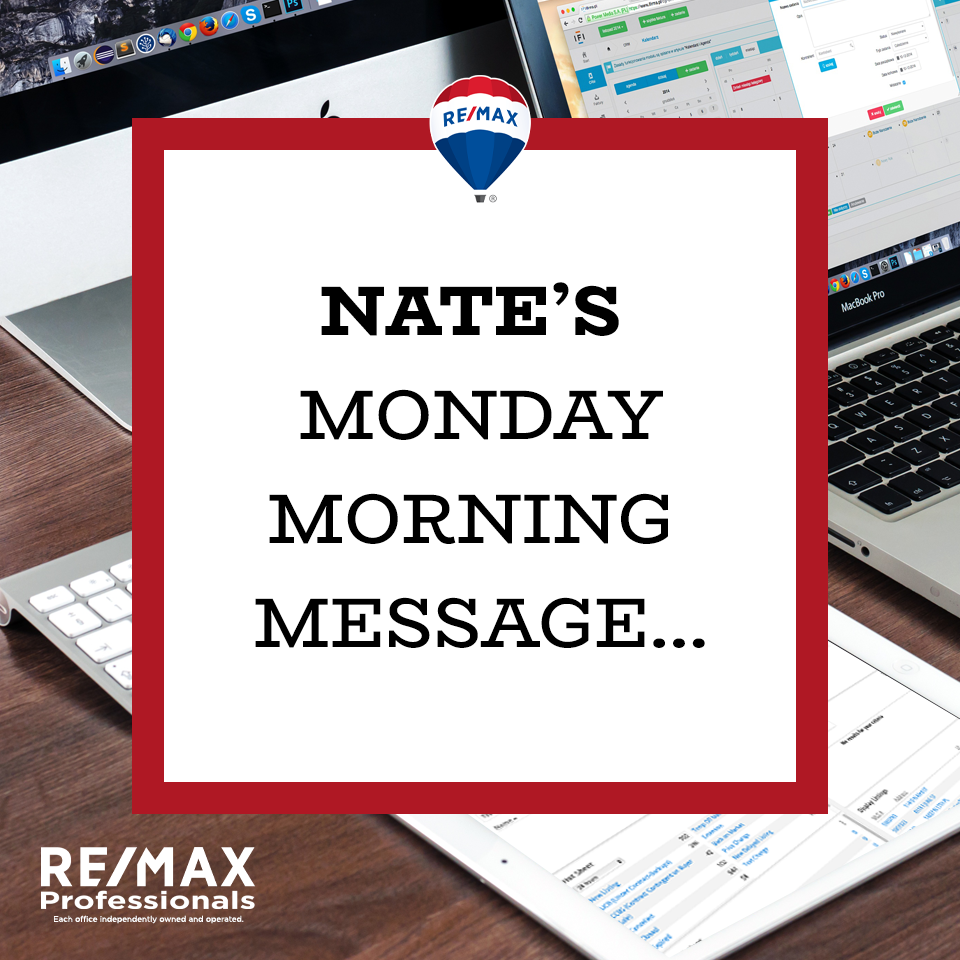 Nate's Monday Morning Message
Volume 1,006
Welcome to this week's Monday Morning Message…I hope this email finds you in good spirits and embracing the summer temperatures because they are here to stay. Did you have the opportunity to enjoy the community fly-over curiosity of our fearless airmen at Luke Airforce? It was a sight to see, and good reminder how blessed we are to be Americans, despite the challenging times we are in. Today I want to give a big shout out to all the frontline workers in our community who are tirelessly working to take care of our residents – we appreciate you and your commitment to the health and wellbeing of our community! If you happen to encounter a frontline worker this week (or you personally know someone) please give them an extra special THANK YOU! Let's make it a great week!
ENCOURAGEMENT CORNER
Action: Do you want to make massive positive change in your life? Take Action. You can sit there are wish or you can get up and take action. Action is what will make your life different.
Persistence: You need the ability to hang on during tough times. Do not give up when you feel that you are doing the right thing. Too many people stopped 3 feet from gold. Be one of the few who doesn't.
Learning: What you know today needs to change tomorrow. You must constantly learn new things and then apply them. Do not always learn the hard way - make it your decision.
Effort: In all things that you do out forth your best effort. There are very few separators in this world and EFFORT is one of the most important.
Caring: Remember that being successful alone will leave you on top of a mountain lonely. Care about people around you and help lift up anyone you can. That is where true success will come from.
Plan: To make great strides you need to know where you wish to go. Plan what you want and how you will get or do it. Make sure to adjust the plan when you get new information and put the effort in to succeed.
WORDS OF INSPIRATION
"My hope still is to leave the world a bit better than when I got here." - Jim Henson
"We must become bigger than we have been: more courageous, greater in spirit, larger in outlook. We must become members of a new race, overcoming petty prejudice, owing our ultimate allegiance not to nations but to our fellow men within the human community." - Haile Selassie
"Gratitude makes sense of our past, brings peace for today, and creates a vision for tomorrow." - Melody Beattie
Nate Martinez, RE/MAX Professionals
www.joinremaxprofessionalsaz.com
623-362-3000
consult@rmxprofessionals.com
Copyright © 2020 Nate Martinez. All rights reserved.