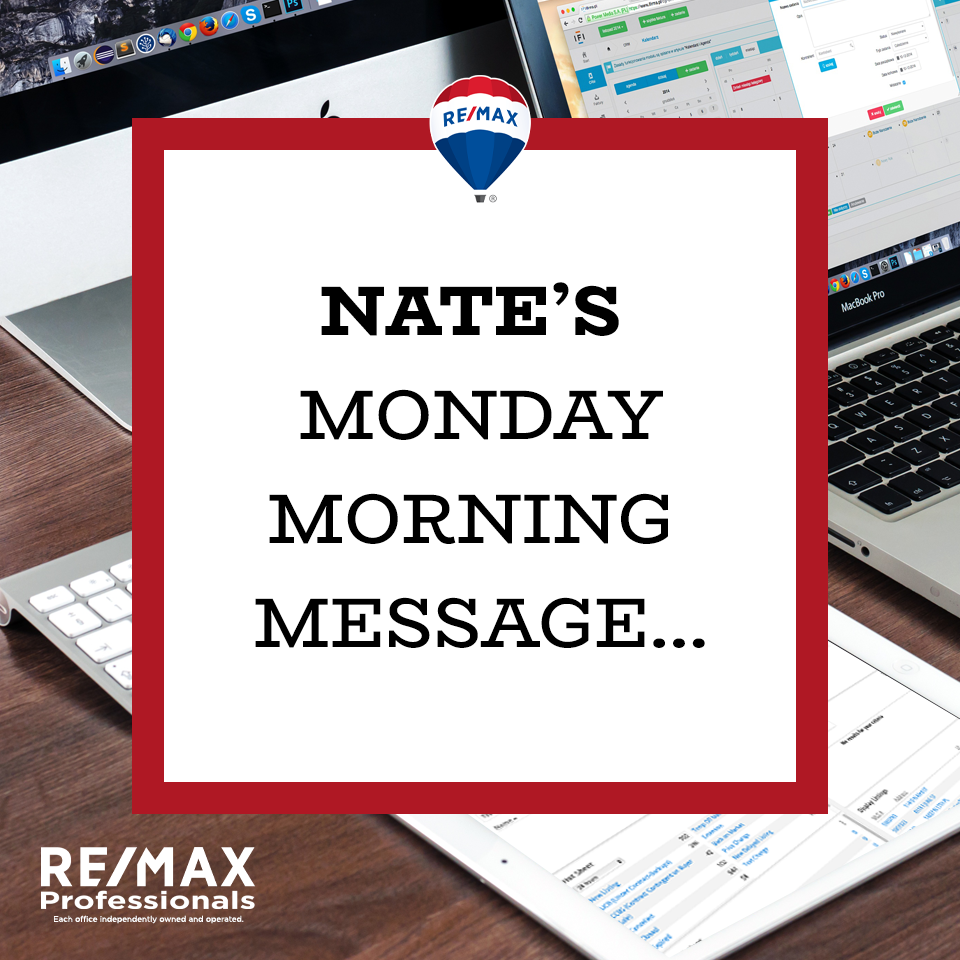 Nate's Monday Morning Message
Volume 993
Welcome to this week's Monday Morning Message…let's take the bull by the horns this week! Are there things in your life that you consistently put off? Are there things in your business that you know you should do, but you keep telling yourself you can do them later? Well, this is the week to get some of those things done and checked off your list!
You will feel a great sense of satisfaction when you take something that has been on your mind for a long time and get it done. Maybe it's calling a family member you have not spoken to in a while. Maybe it's calling those clients that you have not been in touch with recently to see how they are doing. Maybe it's organizing your desk or files. Maybe it's helping a friend with something they need to do. Whatever it is that comes to your mind – let's get it done this week. Let's make it a great week!
ENCOURAGEMENT CORNER
A woman was waiting at an airport for her hours long flight. Since her flight was delayed, she had several hours on her hand. So, she went to airport shops and bought a book and bag of cookies. She took a seat next to a man and started to read the book she had bought. While she was engrossed in her book, she happened to see, that the man sitting beside her boldly grabbed a cookie from the cookie bag. She ignored the incident to avoid a scene.
She munched some cookies from the bag and went back to her book. But the man seemed to have enjoyed the cookies way too much, he took some more cookies from the bag and started munching it.By the passing time she was getting more and more irritated as the cookie thief finished her cookie stock. Every time she took a cookie from the bag, he took one. When the last cookie was left, the man nervously took that cookie and broke it in half. He offered the other half to the lady and smiled. The lady snatched the other half of the cookie from his and thought, "This guy has some nerve that even after eating a half bag of my cookies, he didn't show any gratitude."
She had been so galled by the man and was relieved when her flight was called. She gathered her belongings and headed to the gate, refusing to look back at the thieving ingrate. She boarded the plane and sat in her seat reading her book. She reached her hand in her baggage, she was surprised to find a bag full of cookies in it.
If my cookies are here, she moaned in despair, the other one which she was eating from were his, and he tried to share. While she was flushed with anger about her cookies the man was happily sharing his cookie with her. She was filled with the feeling of guilt and regret. But It was too late to apologize.
Moral: Things are not always as they appear.
WORDS OF INSPIRATION
"Procrastination is one of the most common and deadliest of diseases and its toll on success and happiness is heavy." – Wayne Gretzky
"Remember, a real decision is measured by the fact that you've taken new action. If there's no action, you haven't truly decided." – Tony Robbins
"All human actions have one or more of these seven causes: chance, nature, compulsions, habit, reason, passion, desire." – Aristotle
Nate Martinez, RE/MAX Professionals
www.joinremaxprofessionalsaz.com
623-362-3000
consult@rmxprofessionals.com
Copyright © 2020 Nate Martinez. All rights reserved.