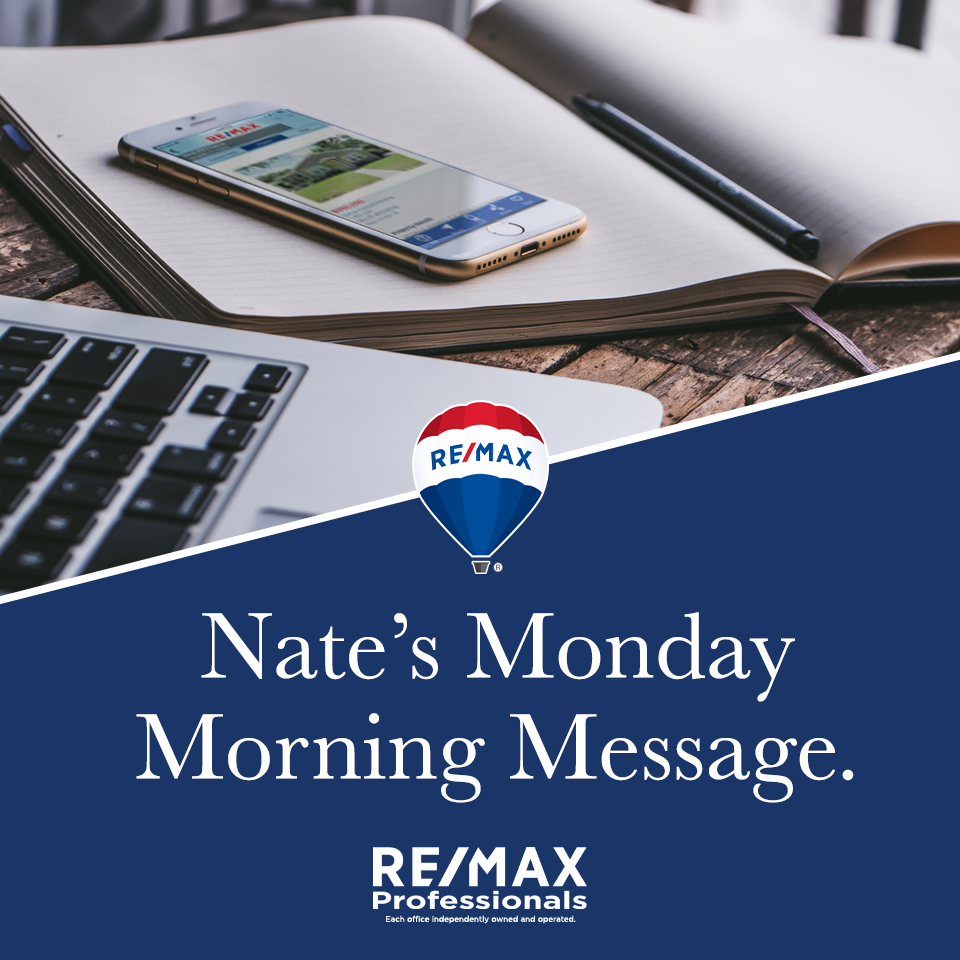 Nate's Monday Morning Message
Volume 1,067
Welcome to this week's edition of Nate's Morning Message! Its another beautiful week in Arizona and may I start this email off by saying…GO SUNS! What a great few games and it has been so exciting to see them in the NBA finals. Today, let's be inspired by our hometown team! What does it take to be a champion? To me, it is showing up every day with a winning attitude, a determination not to fail and the belief that anything is possible with enough hard work and focus. I read once that most people leave 75 percent of their potential on the table! 75 percent! This week I'd like to challenge you to think like a champion and ask yourself how much of your own potential are you not using to live your best life. Let's make it a great week!
ENCOURAGEMENT CORNER
One day a farmer found an eagle's egg and brought it home. He placed the eagle's egg together with some chicken eggs to be hatched. The little eagle was hatched together with the other chicks. He began his life like the other chicks and the mother hen. He followed the ways of the chicken. He ate, walked, crowed, and moved like all the other chickens. One day an eagle flying nearby saw the little eagle mingling together with the chickens. He flew down to talk to the young eagle. All the chickens ran away because they were terrified of the eagle. The young eagle also tried to run but was stopped by the adult eagle. The adult eagle asked, "What are you doing here with the chickens? You are an eagle just like me. You can fly like me and your home is high up among the cliffs". The young eagle said, "I am a chicken, and this is where I belong, together with the other chickens. See, I cannot fly!" The adult eagle then grabbed the eagle in his claws, and with all his might proceeded to fly to the nearby cliffs. The adult eagle said, "I am going to teach you how to fly." The flying lesson began and to his bewilderment, the young eagle discovered that he could fly. Of course, he fell many times before succeeding. He discovered his true self with the help of the adult eagle, and never again went back to the chickens. We are all born EAGLES and are able to soar high into the heavens. We are not CHICKENS that stay on the ground looking for food, just for the day. We have a higher potential within us, and we should realize it. In fact, we should be successful like the adult eagle, so that we can in turn teach other young eagles, who think they are chickens to fly. Someone once said, "The only way to help the poor is not to be poor yourself."
WORDS OF INSPIRATION
"I hated every minute of training, but I said, don't quit. Suffer now and live the rest of your life as a champion." - Muhammad Ali
"A true champion can adapt to anything." - Floyd Mayweather, Jr.
"There's a difference in thinking you are a champion and knowing that you are." - Matthew McConaughey
Nate Martinez, RE/MAX Professionals
www.joinremaxprofessionalsaz.com
623-362-3000
consult@rmxprofessionals.com
Copyright © 2021 Nate Martinez. All rights reserved.