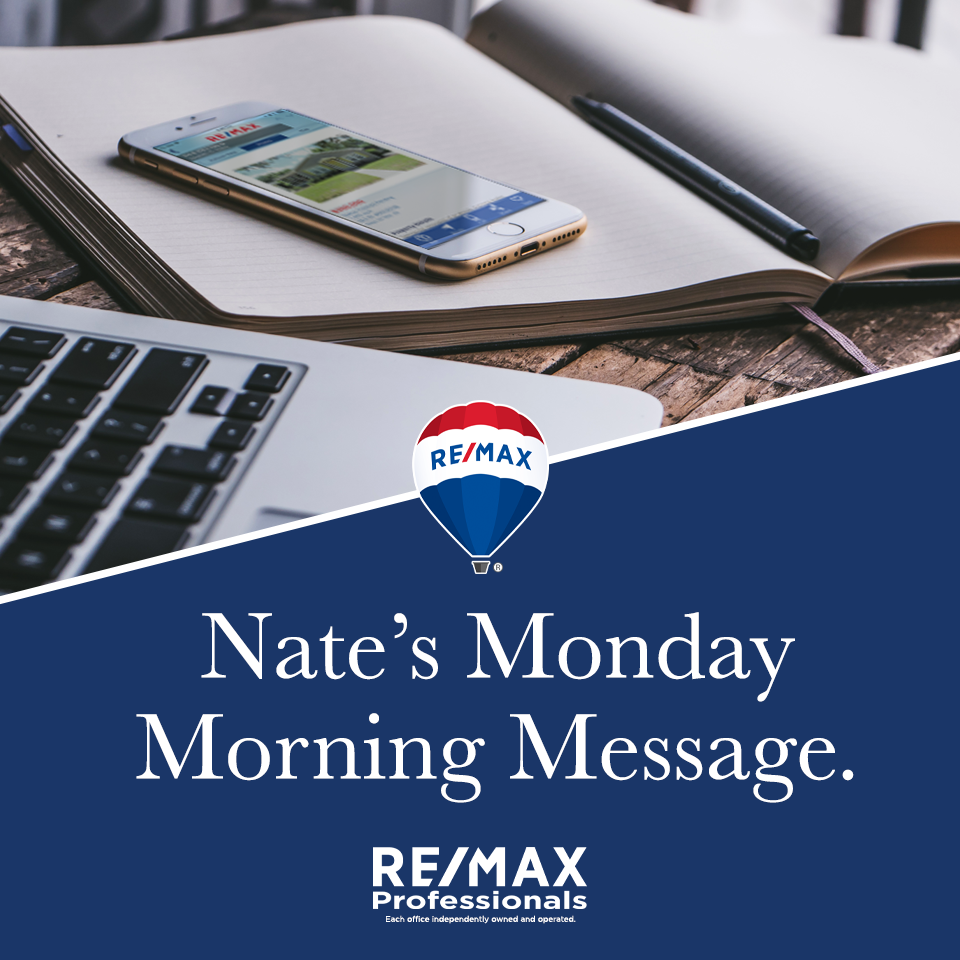 Nate's Monday Morning Message
Volume 1,013
Welcome to this week's Monday Morning Message…I hope this email finds each of you refreshed from the weekend and filled with appreciation for those who took the time to celebrate all the "dads" reading this message! I am going to keep this part of my message short as I want you to take the time to read the message below…and never forget. Let's make it a great week!
ENCOURAGEMENT CORNER
24 Thoughts Never to Forget
Your presence is a present to the world. You're unique and one of a kind. Your life can be what you want it to be.
Take the days just one at a time. Count your blessings, not your troubles. You'll make it through whatever comes along. Within you are so many answers. Understand, have courage, be strong.
Don't put limits on yourself. So many dreams are waiting to be realized. Decisions are too important to leave to chance.
Reach for your peak, your goal, your prize. Nothing wastes more energy than worrying. The longer one carries a problem, the heavier it gets.
Don't take things too seriously. Live a life of serenity, not a life of regrets. Remember that a little love goes a long way…Remember that a lot…goes forever. Remember that friendship is a wise investment.
Life's treasures are people…together. Realize that it's never too late. Do ordinary things in an extraordinary way. Have health and hope and happiness.
Take time to wish upon a star. And don't ever forget…for even a day…How very special you are.
WORDS OF INSPIRATION
"We know what we are, but know not what we may be." – William Shakespeare
"We must let go of the life we have planned, so as to accept the one that is waiting for us." – Joseph Campbell
"What we think, we become." – Buddha
Nate Martinez, RE/MAX Professionals
www.joinremaxprofessionalsaz.com
623-362-3000
consult@rmxprofessionals.com
Copyright © 2020 Nate Martinez. All rights reserved.